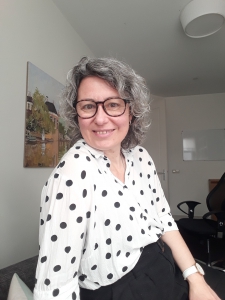 HOLISTIC PSYCHOLOGIST AMSTERDAM
Karin Brunner works as a holistic psychologist in practice: 'Rokin 91 Achter' in the center of amsterdam, near Dam square.
Karin Brunner (1969), moved from Vienna to Amsterdam in 1989. After studying carpentry (at the Wood and Furniture College) and psychology (at the UVA), she became increasingly interested in the physical influence on mental and physical complaints. In 2011, she came into contact with AcuEnergetics, a body-oriented form of treatment that links Eastern wisdom (think Chinese traditional medicine, Indian chakras, Kabbalah, Tao, etc.) in order to activate and enhance the body's self-healing capacity.
Karin sees herself as a holistic psychologist who connects counselling with energetic work. From her background as a psychologist, she uses interventions from
– cognitive behavioural therapy
– solution-focused therapy
– acceptance and commitment therapy
For the body-focussed part, Karin has a number of energetic treatments that can contribute to well-being and balancing the body.
Practice address: Practice Rokin 91 Achter, entrance 2nd door on the left at the back of the Kalfsvelsteeg.
The entrance is in the alley called: Kalfsvelsteeg.
For more information, or have a look at the consult prices, read further: https://www.karinbrunner.nl/
– Holistic psychologist Amsterdam –
Spezialization
– Counselling
– Restore body balance
Rokin 91 achter
1012 KL Amsterdam
Ingang: Kalfsvelsteeg (alley)
2e deur links achter in de steeg (richting de Nes)
The entrance is the second door at your left at the end in the alley
Like us on facebook: www.facebook.com/rokin91
If you fill out the form you can contact the owner of the practice Mirjam van Huis
For an appointment with the other therapists see their email adresses and phone numbers on their pages under: Therapeuten (Therapists).
Contact Karin Brunner: acukarinbrunner@gmail.com
Vul uw privégegevens in om in contact te komen met Mirjam van Huis, de eigenaar van praktijk Rokin 91 Achter: