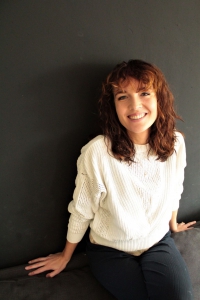 REIKI THERAPIST AMSTERDAM
Robin van den
Heuvel (1986)
has her own reiki practice in addition to her work as a theatre maker. After giving birth to her youngest daughter, she developed a severe form of chronic and hormonal migraine. She was in pain for three of the five weeks. After trying every medicine in the neurologist's cabinet, she found relief with Reiki and nutrition.
Since then, Reiki has brought a lot of peace both physically and mentally.Robin was initiated in the first two levels of Reiki and trained as Reiki therapist by Toña Wong Chung.
She also completed the Simply Healthy course with Dr. Anna Kruyswijk-van der Heyden on holistic food choices.
Robin uses the Usui Reiki system, a Japanese energy healing therapy. This therapy allows the life energy in the body to flow again so that emotional, energetic and physical blockages are lifted to bring you back into balance.
She uses:
–   Reiki
–   Chakra balancing
–   Eastern Elements Theory
–   Heart Focus
–   Journey (in which we search for the origin of a physical problem)
–   Energetic Massage
Practice address: Rokin 91 Achter.
The entrance is in the alley called: Kalfsvelsteeg.
Her website:
http://www.robinvandenheuvel.nl
– Reiki therapist Amsterdam –
Rokin 91 achter
1012 KL Amsterdam
Ingang: Kalfsvelsteeg (alley)
2e deur links achter in de steeg (richting de Nes)
The entrance is the second door at your left at the end in the alley
Like us on facebook: www.facebook.com/rokin91
If you fill out the form you can contact Mirjam van Huis
For an appointment with the other therapists see their email adresses and phone numbers on their pages under: Therapeuten (Therapists).
Contact Robin van den Heuvel: robinhealings@gmail.com
Vul uw privégegevens in om in contact te komen met Mirjam van Huis, de eigenaar van praktijk Rokin 91 Achter: